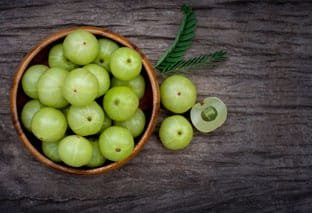 Hindi Name : आंवला
Sanskrit Name : Amlaki
English Name : Indian Gooseberry
Latin Name : Emblica officinalis Linn Pennel

Indian Gooseberry has been given a prominent place in Ayurveda. In ancient India it was believed that Ambrosia (heavenly nectar) contained all rasas thereby, it could impart immortality. In that sense Amlaki and Hareetaki stand next by exhibiting five rasas. Therefore, Gooseberry is considered a "Rasayana" bestowed with anti-aging effects. Enthusiastic investigations on Amla substantiate almost all of its acclaimed properties.
Key Benefits :
Respiratory Health
Improve Digestion
Improves Mental Functions
Weight Management and Skin Care