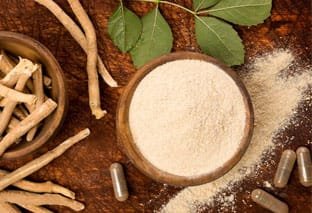 Hindi Name : अश्वगंधा या असगंध
Sanskrit Name : asgand
English Name : Ashwagandha
Latin Name : Withania somnifera, fam. Solanaceae

Ashwagandha is one of the most important herbs in Ayurveda, which is a traditional form of alternative medicine based on Indian principles of natural healing. People have used ashwagandha for thousands of years to relieve stress, increase energy levels, and improve concentration.
Key Benefits :
Relieves Stress and Anxiety. Ashwagandha is perhaps best known for its stress-relieving properties
Lowers Blood Sugar and Fat
Increases Muscle and Strength
Boosts Fertility and Testosterone Levels in Men