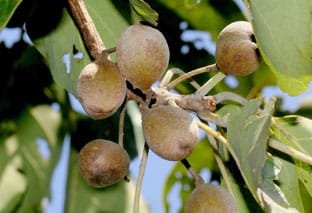 Hindi Name : Karshphal and Vibhitaka
Sanskrit Name : Bibhitakah, Bibhitaki
English Name : Bastard myrobalan
Latin Name : Terminalia bellirica

The flowers are a pale greenish-yellow colour and have an unpleasant odour.1 The fruits are ovoid drupes that are round and pink in colour, turning greyish when dry. Each fruit has an ellipsoid seed in it. The bark is grey or pale brown with shallow cracks and longitudinal fissures.
Key Benefits :
The antiulcer activity of extract of behada fruits was investigated in animal models by determining the ulcer index
In animal models of depression, the behada fruit extract demonstrated antidepressant efficacy, as it drastically reduced the mobility time
Studies have investigated the wound healing efficacy of behada fruit extract
The immunomodulatory action of behada extracts is apparent owing to the influence on T and B cell proliferation affecting cellular mediated immunity