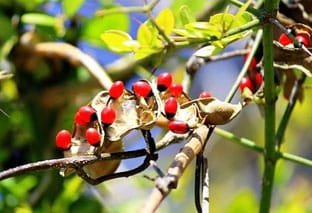 Hindi Name : Gunchi, Gunja, Rati, Gamanchi
Sanskrit Name : Kakadantika, Kakasahavaya, Shikhandika, Sheetpaki, Rati
English Name : Indian Licorice root, Crab's eye, John Crow bead, Abrus seed
Latin Name : Gunchi, Chashmi, Khurosa

Better known as Rosary pea, Crab's eye and popularly known as Gunja in Hindi, Abrus precatorius is a slender, climbing herb with peculiar bright red seeds. It can be found growing over shrubs, trees and hedges. It is one of the most toxic herbal plants because of the presence of Abrin toxins present in plant seeds.
Key Benefits :
Used to treat tetanus and scratches and wounds caused by animals like dogs, mice and cats.
It is known to have laxative (aids bowel movement), aphrodisiac (increases libido) and expectorant (helps remove excess phlegm) properties.
Effective against migraine headache.
Prevent and treat hair loss.