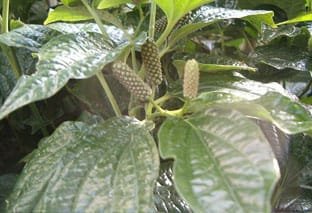 Hindi Name : चव्य, चाब, चाभ, चब
Sanskrit Name : चव्यम्, चविका, ऊषणा
English Name : Cavika
Latin Name : Piper retrofractum Vahl

It is a glabrous, fleshy climber, cultivated mainly in Southern Indiacultivated for its fruit, which is usually dried and used as a spice and seasoning. The fruit of Piper retrofractum is similar in appearance and taste to that of the Long Pepper (P. longum). This plant is a climbing vine with stems of about 3–4 mm in diameter. Its leaves have blades that are glabrous, lanceolate, with acuminate apex and asymmetric base, and are about 10–12 cm long and 3–3.5 cm wide.
Key Benefits :
Helps in Getting Healthier and Ageless Skin
Clears up Acne and Fights Free Radicals
Improves Digestion and Metabolism
It is useful in treating indigestion, abdominal colic, worm infestation, poisoning, anorexia, productive cough, asthma, bronchitis, fever, diarrhea, IBS, hemorrhoids, piles, fistula, chronic respiratory disorders, throat disorders and rheumatic conditions