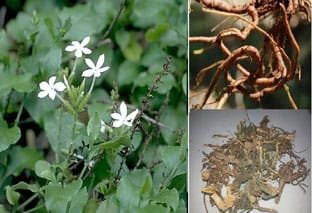 Hindi Name : Chira, Chitrak
Sanskrit Name : Chitrak
English Name : White Leadwort, Ceylon leadwort, plumbago
Latin Name : Plumbago zeylanica

Chitrak root is beneficial in managing diabetes. It lowers blood glucose levels by enhancing insulin secretion due to its anti-diabetic and antioxidant properties. Chitrak also reduces blood cholesterol and triglyceride levels and thereby, helps in weight loss. It also aids in reducing anxiety and calming brain activity as it suppresses the central nervous system due to its relaxant properties.
Key Benefits :
It assists in removing natural toxins from the intestines and thereby helps boost metabolism
It is chiefly used for bodyweight management and is an excellent cure to Kapha
It helps the inappropriate functioning of the liver and effortless digestion of sugar and fats
It is also helpful for pain in joints