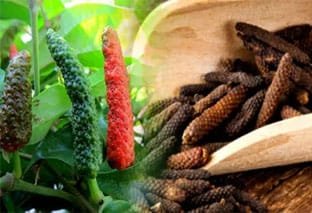 Hindi Name : Pippali
Sanskrit Name : Pippali
English Name : Long Pepper
Latin Name : Piper longum Linn Pennel

Long pepper finds a wide range of applications in Ayurveda. It is used as a "Rasayana" in the treatment of respiratory disorders and also as an important constituent in digestive formulations. Ayurveda uses it as an ingredient of Trikatu (three pungent herbs). Individually long pepper is used in correcting digestive disturbances and minor respiratory ailments.
Key Benefits :
Liver ailments
Weight loss
Stomach ache
Menstrual problems