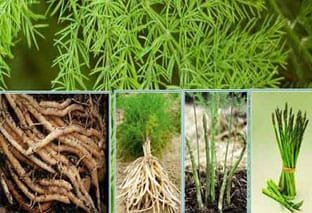 Hindi Name : सतावर
Sanskrit Name : Śatāvarī (शतावरी)
English Name : Adaptogenic herb
Latin Name : Asparagus racemosus

Shatavari is also known as Asparagus racemosus. It's a member of the asparagus family. It's also an adaptogenic herb. Adaptogenic herbs are said to help your body cope with physical and emotional stress. Shatavari is considered a general health tonic to improve vitality, making it a staple in ayurvedic medicine. Keep reading to learn more about the other health benefits it may offer.
Key Benefits :
The shatavari root produces three antioxidants: racemofuran, asparagamine A, and racemosol
Boost immune system
Reduce symptoms of menopause
Ulcer treatment