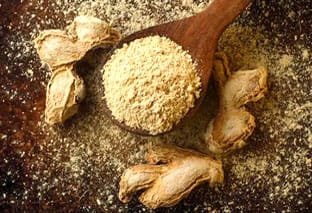 Hindi Name : Adrak
Sanskrit Name : Sunthi, Srungavera, Ardraka, Vishvabheshaja, Nagara, Sonth
English Name : Ginger
Latin Name : Zingiber officinale Rosc. (Zingiberaceae)

Due to its strong flavor, Ginger is an essential ingredient in many Asian cuisines. Its therapeutic benefits have been recorded in Ayurvedic and Traditional Chinese Medicine. Ginger is a potent anti-nauseatic and is beneficial in treating upset stomachs.
Key Benefits :
The herb is useful in ameliorating gastrointestinal disorders like indigestion
Ginger relieves nausea, morning sickness and motion sickness
As an anti-inflammatory agent, Ginger can be used to treat arthritis and osteoporosis
Soothes Sore Muscles