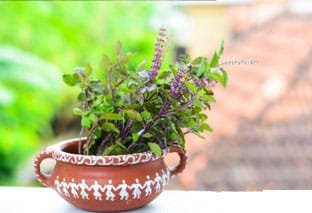 Hindi Name : Tulsi
Sanskrit Name : Tulasi
English Name : Holy Basil
Latin Name : Ocimum sactum Linn Pennel

An annual delicate herb cultivated extensively in tropical climate of the country. It is also planted in kitchen garden and as an indoor plant since it is kept sacred in Hindu philosophy. Medicinally the leaves are used for various kind of classical and home made preparations.
Key Benefits :
Promotes Healthy Heart
Tulsi is a natural headache reliever which can also relieve migraine pain
Tulsi is an age-old ingredient for treating fever. It is one of the prime ingredients in the formulation of various ayurvedic medicines & home remedies.
Cures Respiratory Disorders