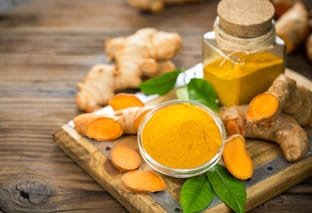 Hindi Name : हल्दी
Sanskrit Name : haridra
English Name : Turmeric
Latin Name : terra merita

Turmeric — and especially its most active compound, curcumin — have many scientifically proven health benefits, such as the potential to improve heart health and prevent against Alzheimer's and cancer. It's a potent anti-inflammatory and antioxidant. It may also help improve symptoms of depression and arthritis.
Key Benefits :
Turmeric Gradually Increases Antioxidants in Your Body
Turmeric Might Prevent Cancer
Turmeric Helps Lower Cholesterol
Turmeric Can Help Prevent and Treat Alzheimer's Disease