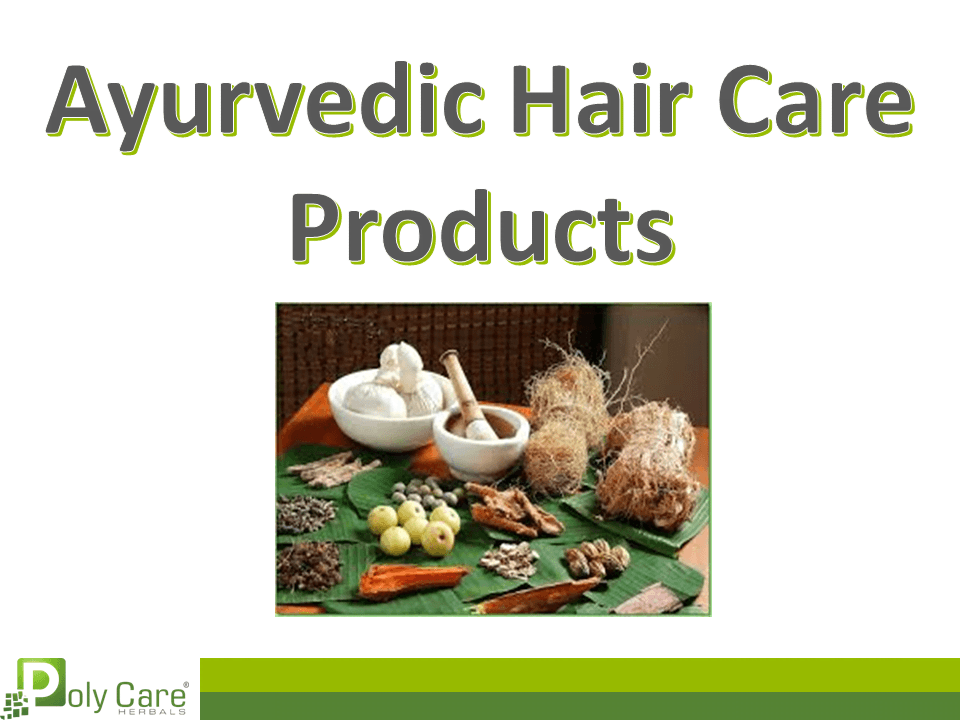 Hair loss, dull and unruly hair, split ends, visible hair breakage, thinning hair, patchy or slow hair growth are some of the common hair problems. They're not just a cause of ugly looks, but also low confidence in many cases. Thanks to the
Ayurvedic Hair Care Medicine
 that treats hair issues without any side effects. These traditional products treat dandruff, grow healthy hair, treat damaged hair, prevent premature hair loss, improve hair texture, and more. Whether it is Ayurveda shampoo or oil, applying them regularly can give you great relief by maintaining a certain healthy hair texture throughout with its natural and herbal ingredients. Here the question arises who are the best
Ayurvedic Hair Care Medicine Manufacturers
? then the answer is Polycare Herbals.
Below are common benefits of using Ayurvedic Hair Care Products:
Grow Smooth & Nourished Hair -
When it comes to hair fall, ayurvedic products with amla are ideal for growing smooth and nourished hair. It makes hair roots strong. You can use herbal hair oils; Anti Dandruff shampoo Reduce Dandruff with regular use to nourish the hair and Controls itchiness.
Premature Hair Loss -
No doubt, prevention is better than cure. If you follow health care habits, then you will definitely prevent premature hair loss problems. Common habits include regular application of ayurvedic oil on hair, using shampoo for strength, avoiding heat whenever possible, and eating a hair-healthy diet. Choose Ayurveda oil that contains bhringraj. It is a natural way to tackle premature hair loss.
Hair fall and Premature Graying -
Regular use of hair fall shampoo restructures hair fibre, and reduces breakage. It makes your hair stronger and nourishes. Ayurveda products containShikakai, Brahmi, Amla, and Bhringraj that help curb hair loss by restoring scalp health, nourishing roots well, and accelerating hair growth. It is also good for nourishing and moisturizing hair as well as preventing premature graying. Again, apply ayurvedic oil with bhringraj to control the amount of melanin in your hair and stop premature strands of gray hair.
Improve Hair Texture -
Ayurvedic herbs have been a very effective solution for hair fall treatment for centuries. Ayurvedic hair fall treatments include using oils such as coconut, bhringraj, castor, amla, Brahmi, etc. It will help strengthen and grow natural hair. Unlike chemical-based products that come with several health risks, Ayurvedic herbs are effective for both rough and dry hair. With regular application, you will be able to get shiny, soft, and silky hair.
Conclusion
Ayurvedic products contain several natural ingredients rich in calcium, vitamins, flavonoids, and other nutrients. They prevent hair fall, manage hair breakage, and improve hair tissues. The products also keep your hair in a manageable state. If you are worried because of unmanageable and frizzy hair, then ayurvedic products are the solution. Rub hair oil gently on the scalp. It will not just nourish your hair but also keep it easy to manage. So, buy
Ayurvedic Hair Care Medicine
 today from
Ayurvedic Hair Care Medicine Manufacturers
and grow smooth, healthy, and nourished hair.